We are excited to announce the very first release of 2PDF. This command line tool for effective PDF conversion was available before the release, and many people requested it even before. So now we are finally ready to release the program for the world!

2PDF is a command line converter which can convert a wide range of images, as well as Word, Powerpoint, Excel, XPS, HTML and other documents to PDF. It allows saving multiple documents from a defined folder, creating multipage files and making PDFs searchable using built-in OCR. The program has flexible settings to adjust page range, page rotation, file compression, watermarking, and more. 2PDF also gives you a way to automate conversion tasks by writing a script/batch file.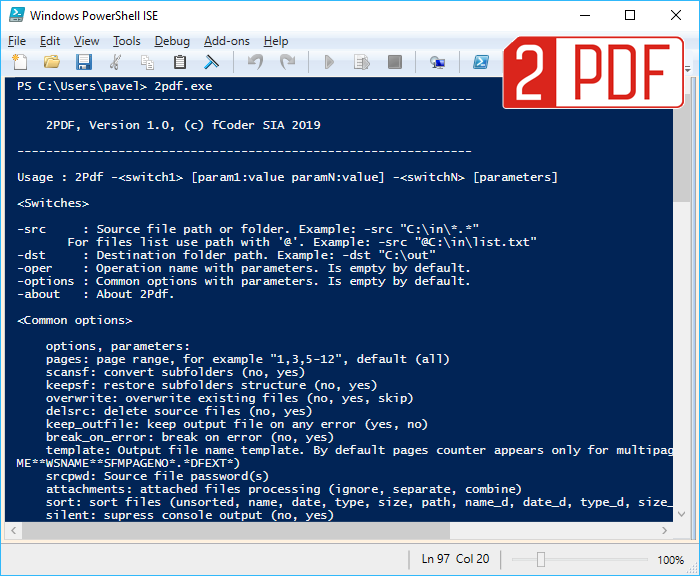 2PDF 1.0 features
Ability to convert to PDF format
Ability to convert all files from a selected folder (including subfolders)
Ability to combine all files from a folder to a single multipage file
Ability to set the file name for a combined multipage file 
Ability to OCR files to searchable PDF (6 languages available)
Ability to convert all files listed in a text file
Ability to convert CAD drawings
Ability to combine multiple PDFs into a single PDF file
Ability to split multipage files into separate PDF pages
Ability to set manual or auto page rotation (portrait, landscape)
Ability to set page range
Ability to delete source files after conversion
Ability to set the output file name template
Ability to handle file attachments
Ability to sort output files by a certain parameter
Ability to add text watermark and adjust settings
Ability to add image watermark and adjust settings
Ability to compress output PDF file size (DOC, DOCX > PDF)
Ability to quickly merge a large number of files
Ability to password-protect one or multiple files
Ability to remove password(s) from one or multiple files
You can find all parameters and functions available if you open the Command Prompt, PowerShell or Windows Terminal, type 2PDF.exe, and press enter. You can also check the readme file and some Windows Batch Files as examples located at C:\Program Files (x86)\2Pdf\Examples. For a more comprehensive description, please check 2PDF syntax page.

Download 2PDF 1.0 and share your experience after using it with us!